Documented Relief from Anxiety & Insomnia
Rest assured that Cranial Electrotherapy Stimulation (CES) therapy brings relief and results. Instead of struggling with anxiety and insomnia, you can now achieve relaxation, peace of mind, and restful sleep, all without relying on drugs. The following are some of the many case studies that have been reported to us by mental health counselors, psychologists, MDs, substance-abuse counselors, and others. (For the sake of privacy, identities are withheld.)
Read for yourself about the astounding relief and results that people have experienced using CES and the CES Ultra. Contact us today to learn how you can experience similar results in the privacy of your own home.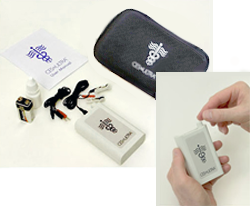 My family is in the middle of a miracle. Your CES unit is the catalyst for this miracle and we are so very grateful to you. I would like to tell you a little of our story. Although four members of the family have great stories to tell concerning the CES unit, the greatest of all the miracles concerns my grandson, Johnathan…. READ MORE.

CES therapy is simple and easy. The CES Ultra is the most user-friendly CES device on the market. Enjoy the gentle massage-like action and pleasant tingling sensation. You have one-touch control of the unit at all times.
Simple to operate
Automatic shut-off
Push-button timer: 30, 45 and continuous
Single-control setting
Comfortable ear-clips or pre-gelled electrodes
Rugged construction
Fitted carrying case
Compact portability for hand-held use or carrying in a pocket
Low-battery indicator
Uses a standard 9-volt battery