CES Ultra Technical Specifications
The Most Commonly Used Cranial Electrotherapy Stimulation in the U.S. Features:
Frequency: 100 Hz (100 pulses per second)
Power source: 9 V alkaline battery
Wave shape: Modified square wave
Amplitude: Adjustable from 0-1.5 mA (milliamps)
Pulse duration: 2 milliseconds (20% duty cycle)
Current intensity: up to 1 mA (milliamp)
Physical Specifications:
Base unit weight: 4.5 oz
Base unit dimensions: 4.25 in x 2.5 in x 1.0 in
Carrying case dimensions: 8.25 in x 7.0 in x 1.75 in
Lead wire length: 3.5 ft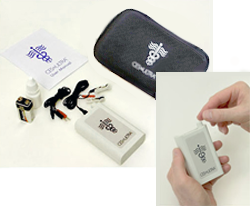 CES therapy is simple and easy. The CES Ultra is the most user-friendly CES device on the market. Enjoy the gentle massage-like action and pleasant tingling sensation. You have one-touch control of the unit at all times.
Simple to operate
Automatic shut-off
Push-button timer: 30, 45 and continuous
Single-control setting
Comfortable ear-clips or pre-gelled electrodes
Rugged construction
Fitted carrying case
Compact portability for hand-held use or carrying in a pocket
Low-battery indicator
Uses a standard 9-volt battery