Focus Factor® bottle, not equal to symbol, fresh fruits, vegetables and nuts
Focus Factor is a memory booster that provides supplemental nutrition to help you feel sharper and more alert.
The ingredients of Focus Factor are vitamin A, vitamin C, vitamin D, vitamin E, thiamin, riboflavin, niacin, vitamin B6, folate, vitamin B12, biotin, pantothenic acid, calcium, iron, iodine, magnesium, zinc, selenium, copper, manganese, chromium, molybdenum, potassium, diemethylaminoethanol, L glutamine, bacopin, L-pyroglutamic acid, phosphatidylsering, docosahexanoic acid concentrate, choline, inositol, N acetyltyrosine, bilberry fruit, GABA, Activin, vinpocetine, trace lyte, huperzine A, boron, vanadium and grape skin extract. According to the official website, Focus Factor is, America's #1 brain health supplement.
The suggested use on the package lists Focus Factor as a dietary supplement. Recall how many vitamins it has. TOO MUCH OF ANY VITAMIN CAN CAUSE TOXICITY. Common signs of this condition include: A sudden fever, low blood pressure, HEADACHE, muscle aches, confusion, diarrhea, nausea, vomiting.
There are reports it causes headaches, as well as other side effects, when you read through the customer feedback posted online. Plus, there is no detail about the cited clinical study that supports its claims.
Before going for company-produced boosters, try what Mother Nature provides you. Balance in our diet is essential to balancing our systems.
Balance: Key To Optimal Health And Well-Being
Balance is the key to optimal health and well-being. Cranial Electrotherapy Stimulation (CES) is one way to balance the neuro-chemical and hormonal processes of your physiology. CES is a non-invasive, non pharmaceutical way to achieve higher cognitive function, by using your body's natural systems, without side effects. CES uses an extremely low frequency electrical current to coax or engage parts of the human system, responsible for rebalancing neuro-chemical and hormonal function. CES Ultra is a CES device, designed specifically for these purposes.
CES Ultra works by stimulating the limbic system and the Vagus nerve. This CES process is both safe and effective for treating insomnia, anxiety, and the repercussion of lessened cognitive function, due to a debilitating nature:
The better we sleep the sharper our mental acuity
The less depressed we are the more our awareness remains in the moment
The less anxious we are the more pertinent information we can retain.
Learn more about the science behind CES and the CES Ultra device.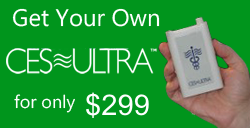 Rated 4.8/5 based on 18 user reviews
I am so glad that a friend of mine directed me to The CES Ultra. I have been astonished with the results. Within a few weeks I noticed a big improvement in my memory and I was more focused and alert while studying. What a great product!

– Dana K.
Citations