CES Innovation – a Proven Remedy for Stress, Anxiety, and Insomnia for over 50 Years
You can rest assured that CES (Cranial Electrical Stimulation) has been well-researched and studied. Research on CES began in the former Soviet Union during the 1950s where its primary focus was the treatment of sleep disorders, hence its initial designation as "electro-sleep." Treatment of insomnia was soon overshadowed, however, by psychiatric application for anxiety. Since then, it has been referred to by many other names, the most popular being "transcranial electrotherapy" (TCET) and "neuroelectric therapy" (NET).
Clinical History Reveals CES Effectiveness
Because of the success of CES, Eastern European nations soon adopted CES as a treatment modality, and its use spread worldwide. By the late 1960s, animal studies of CES had begun in the United States at the University of Tennessee and what is now the University of Wisconsin Medical School. These were soon followed by human clinical trials at the University of Texas Medical School in San Antonio and the University of Wisconsin Medical School. More studies followed.
An Abundance of Scientific Evidence Supports CES Claims
There currently exist more than 1,000 articles on CES therapy many of which are listed in four reviews put out by the Foreign Service Bulletin of the United States Library of Congress. This is in addition to the wealth of physiological and bio-engineering data on electro-sleep and electro-anesthesia, including 18 experimental animal studies. Human research studies on CES currently number more than 100.
Its efficacy has been clinically confirmed through 28 established psychometric tests, computerized EEGs and topographical brain-mapping. Meta-analyses yielding positive results from the use of CES have been conducted at the University of Tulsa and at the Harvard University School of Public Health. The most extensive work on CES is presently being conducted at the Pavlov Institute in St. Petersburg, Russia.
Contact us to learn how the proven therapy of CES can bring you restful sleep, peace of mind, and a whole new level of relaxation.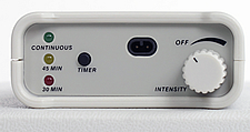 I never believed when I first started using [the CES Ultra] that its effect would be so noticeable. I was totally amazed. I was going through some personal problems in my life and all this added stress was contributing to me not sleeping properly. I was absolutely full of tension… because I was only getting four or five hours sleep a night.
I started to use your CES machine in the evenings around 9:30, as I settled in to watch a little TV. It helped to calm my nerves and actually made me feel more relaxed. I keep it on my coffee table … so it's always close by. Now I am sleeping about 7 hours a night.