The Problem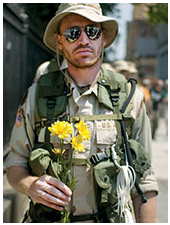 Tens of thousands of Iraqi and Afghan veterans have returned home from the wars with a debilitating condition: post-traumatic stress disorder (PTSD. The VA is at loose ends about how to deal with a mental health crisis that is ruining not only the lives of returning vets, but those of their families and friends as well. Drug therapy, which is the main way they have treated the problem, has proven to be not only ineffective, but has worsened the situation, triggering an extraordinary spike in substance abuse, leading to violent behaviors and suicide.
Read Brig. General (Ret) Stephen Xenakis MD, on the plight of our veterans at Huffingtonpost – PBS's 'This Emotional Life': Memorial Day — Remembering Military Suicides
An Answer?
Fortunately, there is a non-drug option with a proven track record in treating anxiety, depression, and insomnia which are the primary symptoms of PTSD. It's called cranial electrotherapy stimulation, or CES. It's an electronic device that is simple to use, has no side effects, and has been validated by decades of research. CES is currently being prescribed for active duty personnel returning from the mid-east at the Warrior Combat Stress Reset Program at Ft. Hood, TX, at Ft. Campbell, KY, Ft. Joint Ft Lewis-McChord, WA, at the Bremerton WA Naval Hospital, as well as in combat conditions in Iraq and Afghanistan. It should not stop there.
Operation Pro-Vet: How You Can Help
CES units generally retail for $350-$995. Because they are not generally covered by health insurance, they are most often out of the reach of veterans most of whom have a limited income or who are currently unemployed. Neuro-Fitness LLC, the manufacturer of the CES Ultra—in recognition of those who have given so much for their country—will now make available its CES unit at wholesale cost to veterans, not only of our current wars but our past wars as well as to their families. We are also working with Service clubs to make available units at a special low cost so that they may then be distributed to veterans in need.
To learn more about CES, visit us at our website: https://www.cesultra.com/. To learn more about the program, call us at 1-425-222-0830 or email us today at sales@cesultra.com for more information and how your local group or organization can become part of this program to assist those who have served on our behalf. They deserve nothing less.